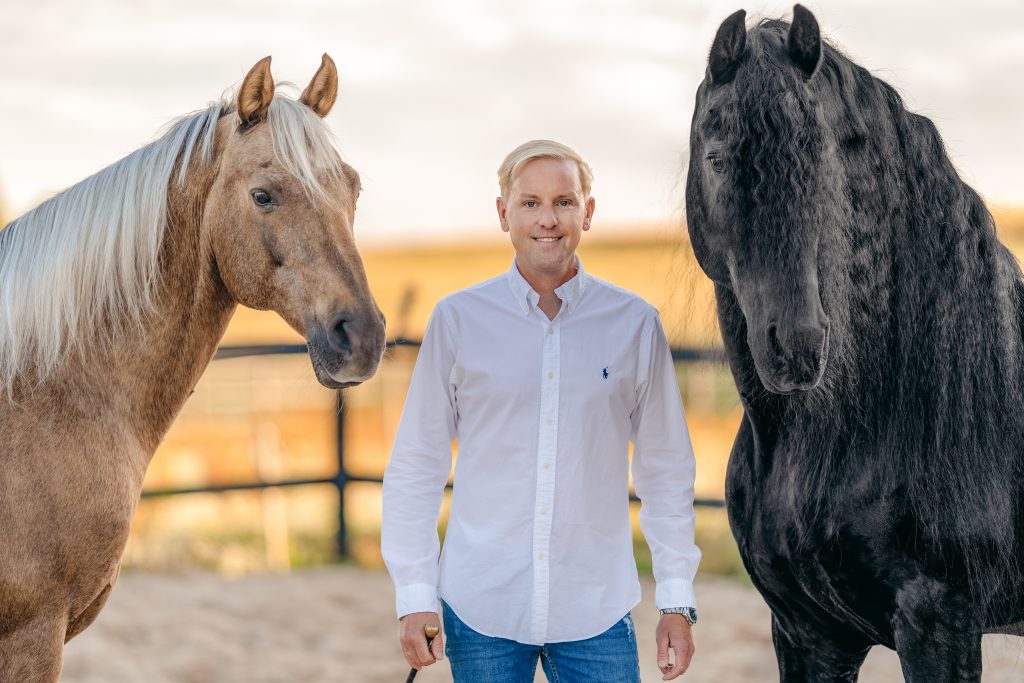 "Tobbe Larsson is not only a true successful showman but also a true horseman"
    Tobbe has held a fascination for horses, for as long as he can remember. Even though he does not come from a horse interested family and did not grow up amongst horses, he still managed to spend most of his youth around them.
He got his first horse at the age of seven, a small Shetland pony, and this was where he first developed his special interest for liberty training.
In 1999 Tobbe participated in a renowned Swedish horse show. He staged a brilliant performance with an American quarter horse he had both trained and bred himself, called Nicke. Basically overnight, the pair became a huge success and Tobbe's career took off.
During the following years Tobbe received invitations to and participated in numerous shows in Sweden, neighbouring countries and major international shows.
Tobbe and his horse Nicke also had the opening number of Europe's biggest horse show. They have performed in most of the big arenas around Europe.
There have been many memorable performances at Falsterbo Horse Show, Ericsson Globe, Friends Arena in Stockholm, Elmia Skandinavian, O2 Arena Prague, Wembley Arena, Manchester Arena, this where Tobbe have made big stage performances with his horses and both Swedish and international ensemble of dancers and singers.
The President of Falsterbo Horse Show, Mr Jan O Wannius, says "Tobbe has very much contributed to the success of the shows. Tobbe Larsson is not only a true successful showman but also a true horseman".
The secret to Tobbes success, is of course the fact that he is an un-equalled artist, combining horsemanship with specially composed music for the occasion. Add creative dancers to this, and you have a totally new approach and a once-in-a-lifetime-experience.
 No wonder practically all of Tobbes shows are sold out well in advance and loved by everyone!
In 2001 Tobbe acquired the old rectory of Sjörup (Sjörup Prästgård), which was established in 1863. The beautiful rectory is located by the Baltic Sea in the south part of Sweden, close to the city of Ystad. Tobbe has turned the rectory into a serene and perfect training environment for his horses. The rectory is also where he receives other professionals who come to train their horses with him and where most of his TV shows and other media related productions are recorded.
Lately Sjörup Prästgård has received a lot of attention, this of course is where Tobbe has held his fantastic summer-shows. The latest addition is "15 Minuter En Kvart", a gourmet restaurant, run by Alex.
As Tobbe says: "I am delighted and proud of our achievements, now we can offer a total experience to all our guests!"
Not surprisingly, many guests enjoyed watching the sold out shows at Sjörup Prästgård and more than 20 000 guests chose to visit Sjörup Prästgård where they also chose to dine at the restaurant during 2020. Considering this was during the heights of the pandemic, it is an amazing number!
Apart from all the shows, Tobbes horses are actors in their own right, featuring in several promotion-films for international brands. One of the latest is ATG´s film "the singing horses".  
Something that had great impact on the Swedish world of horses is Tobbe's huge TV success on national television called "Ponnyakuten" (The Pony Emergency). A series not only loved by young riders, but also by many older equestrians. As a result of the success the program (more than 100 episodes) was sold internationally.
Furthermore, Tobbe recorded 10 episodes of Tobbes Golden Ticket (Tobbes Guldbiljetter) for Swedish television, recorded in Dubai and Sharjah, and also programs recorded in Abu Dhabi with amongst others
Sheikh Shakhboot Bin Nahyan Al Nahyan for English television.
As Tobbe says:" Horses have shaped the type of life I live today, they have given me the opportunity to meet royalties, artists and many interesting people I would never have met without them. Liberty training is so very special…a direct way of communication between humans and horses."
During the last ten years, Tobbe has spent a lot of his time in the United Arab Emirates, a country he cares deeply for and this is also one of the places where he works with big stage performances with his horses and also where some of his TV programs have been recorded.
"I love the United Arab Emirates, and all the wonderful Emirati friends I have met during my years there. As soon as I get to the United Arab Emirates, I feel at home, and I am so proud to be able to bring my own horses to the place so close to my heart!"
The photo shows Tobbe's four-year-old quarter-horses Devin, Gazel and Kasper. Although they all come from the same stallion, all three are very different in temperament and personality.
"Training a group like this does not mean that I become the leader of the flock, in fact I rather look at it as finding a way for the four of us working together in harmony."
When seeing Tobbe, Nicke and the other horses working it is easy to believe Tobbe's motto," Love and respect your horse".
Tobbe Larsson
 Equestrian Artist & TV host